If you look back on your childhood days, one of the sweetest memories that you will remember is your birthday. However, growing up changes a lot of things but the excitement on the birthday remains the same. And, if you are planning to throw a birthday party at your home, we share some DIY birthday decoration ideas for your home to set the mood right.
To decorate your home for a birthday party, you first need to consider the person's age, gender, likes, etc. After that, you need to think of a birthday decoration theme, space available, guest list, cake and food and drinks. The birthday decoration material including balloons, banners, foil curtains, confetti, pom-poms, lights, party hats, etc. can either be purchased online or at the local stores near your house.
So go ahead and plan your birthday party with our quick and easy DIY birthday decoration ideas for your home.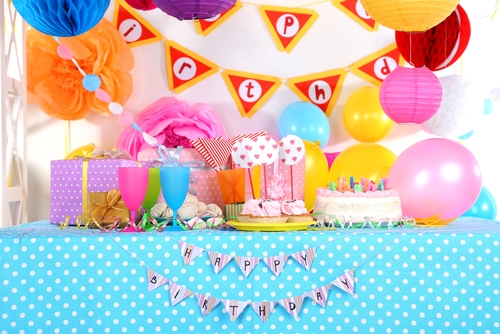 An all balloons – birthday decoration idea for your home
12 Simple Birthday Decoration Ideas for Your Home
Here are 12 simple birthday decoration ideas for your home. Easy to execute, these awesome DIY ideas will certainly take your home birthday party to the next level.
1. The Classic Banner for Birthday Decoration
The one thing that looks perfect in the background in all the birthday pictures is the birthday banner. It is the most classic and yet simple birthday decoration idea for your home. Whether you are planning a birthday party for a kid or an adult, the old school birthday banner is a must.
The birthday banners are available in a wide variety of shapes, sizes, colours and materials (fabric, paper, etc.) and can even be customised as per the demand. For example, quirky banners like, 'Neha's Sweet 16' or 'Siddharth's Dirty Thirty' or 'Sarthak's Fabulous Forty' add a fun element to the party.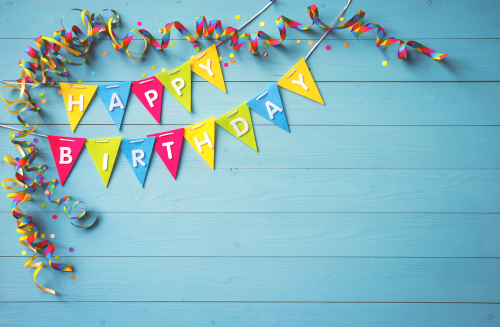 The classic and simple 'birthday banner' decoration
2. Colourful Balloons for Birthday Decoration at Home
Try as hard as you want to but you won't be able to imagine a birthday decoration without balloons. Available in plenty of colours, shapes (heart, starts, oval, round, letters, etc.), patterns and even sizes, balloons add life and colour to any birthday party.
As per the theme or space available, you can choose from helium-filled balloons, air-filled balloons, glitter balloons and even balloons with LED lights inside them. For wall or fall ceiling decoration, you can use either single or dual colour balloons. If you want to go creative with the birthday decoration at home, you can make an arch, a circle, a table with the balloons or you can simply use helium balloons to stand on the floor. Here are a few popular balloon styles for birthday decoration at home:
Helium balloons: If you are looking for birthday balloon decoration, opt for helium balloons. Get helium balloons and let them hang up on the ceiling. These balloons are perfect for large celebrations as you don't really need anything else if you have these in place.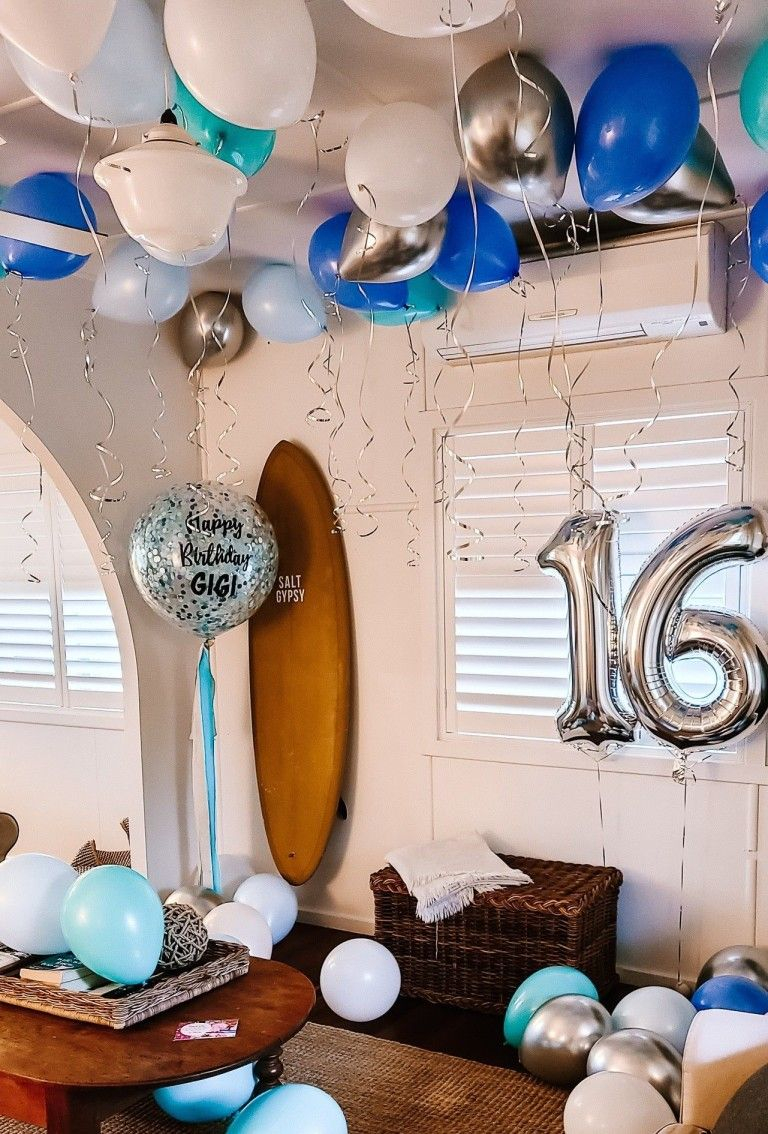 Helium balloons on the ceiling for birthday decoration (Source: Pinterest)
Tassel Balloons: Decorate the helium balloons further by adding paper tassels to them, and come up with a decoration type that is both loud and fun. Make paper tassels at home with a combination of coloured crepe papers and let them do their magic.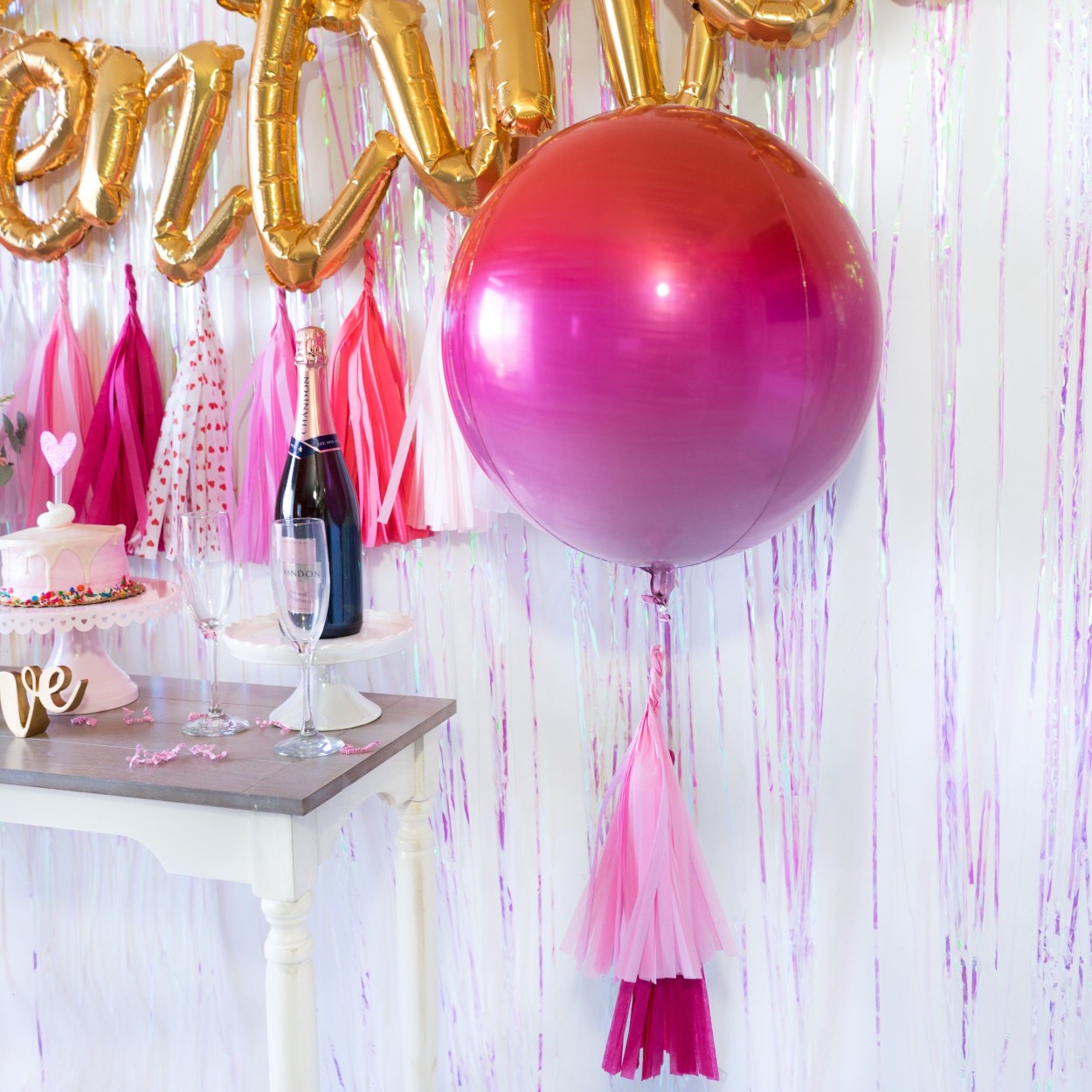 Tassel helium balloon for birthday decoration (Source: Pinterest)
Balloon Wall: If you are throwing a big party and want fun photo booth in place, a balloon wall is a good option. Add fun props depending on the theme of the party to ace the birthday balloon decoration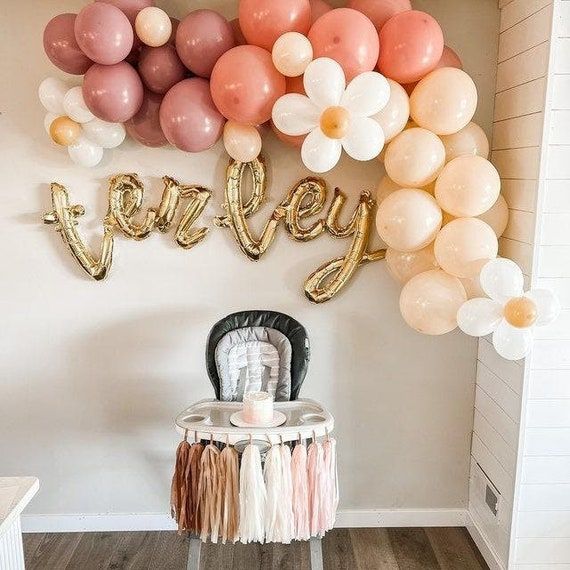 A funky balloon wall birthday decoration(Source: Pinterest)
Balloon Arch: Another idea that works well for big parties in open spaces is the balloon arches. They add more value in terms of decor with minimal cost and are suitable for both kids and adult birthday parties.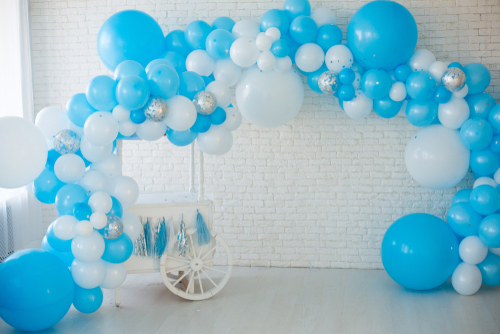 An arch using balloons for birthday decoration
Confetti Balloons: To add a touch of simplicity and elegance to your birthday decoration, go for balloons with confetti. Hang them from streamers or add them to the helium balloons or mix in a little glitter with the confetti and be ready for a lot of compliments.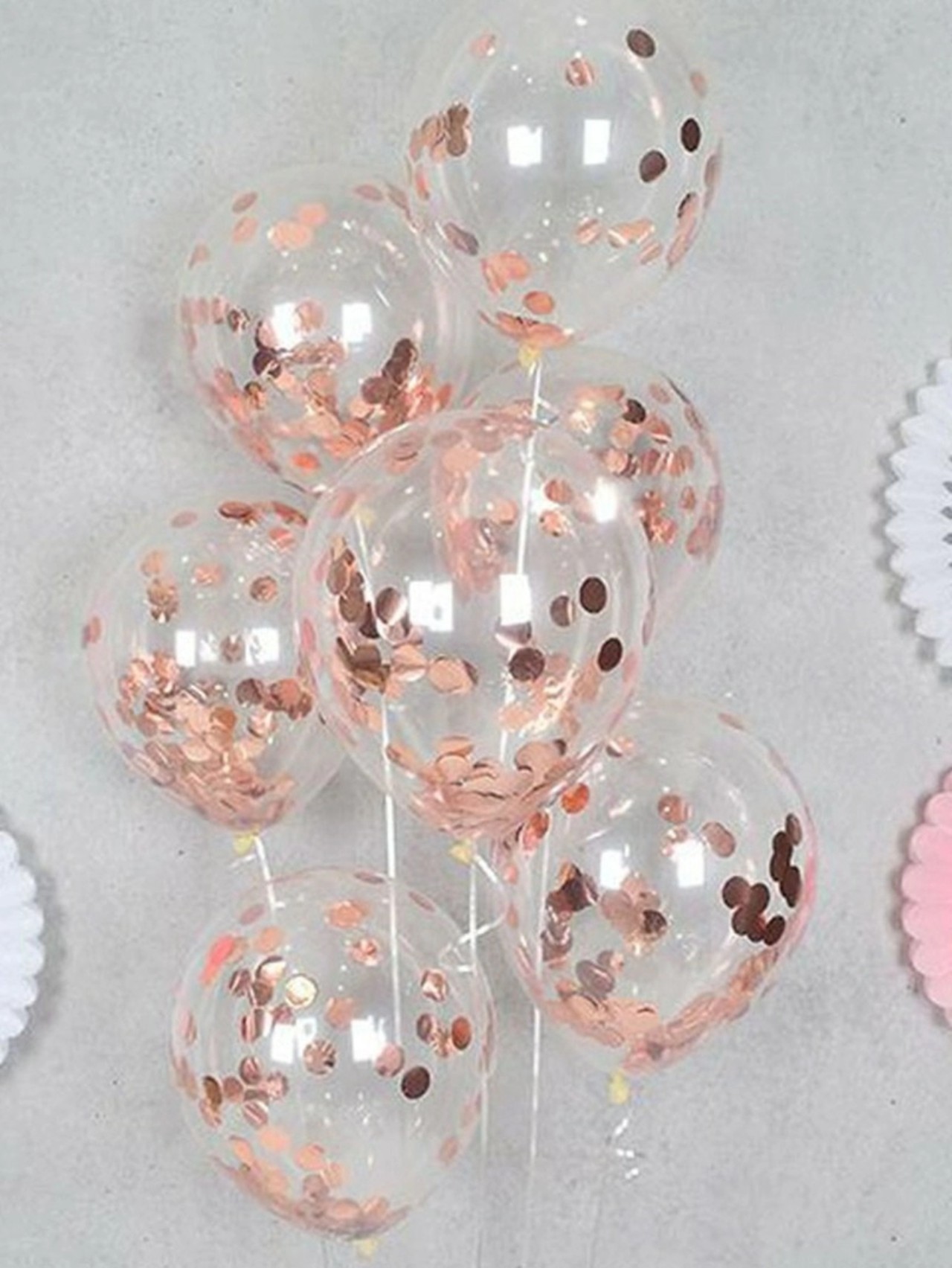 Confetti balloons for birthday decoration (Source: Pinterest)
A Balloon Table: If you want to highlight the age of the birthday person out loud, you can beautifully use a balloon table to do so.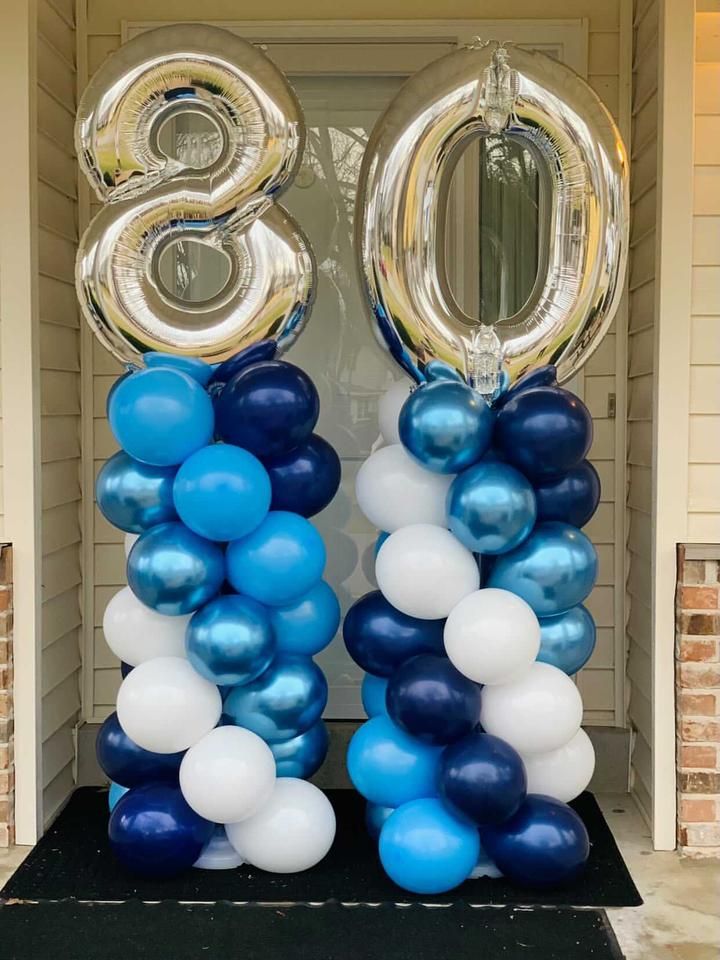 A balloon table for birthday decoration (Source: Pinterest)
3. Tissue Pom-Pom Birthday Decorations
A very elegant and beautiful birthday decoration idea for your home is DIY pom-poms. They are not only easy to make but also serve as an amazing birthday decoration accessory.To make a pom-pom, all you need is a table tissue. You can make these pom-poms within minutes by following a DIY video available online and can hand or stick them on walls.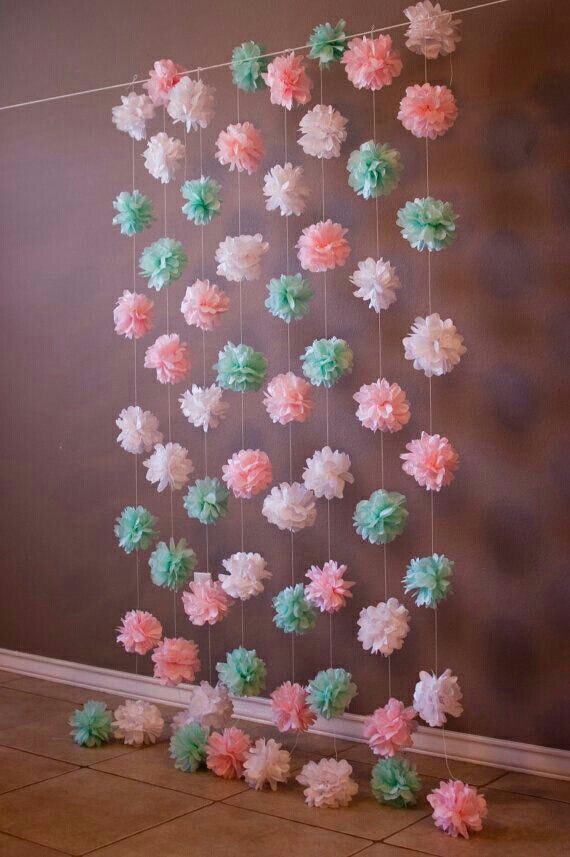 DIY pom-poms for birthday decoration (Source: Pinterest)
4. Wall Birthday Decoration for Your Home Party
In a birthday decoration at home, there must be a statement wall that should be designed to attract the guests to click photos or selfies.
You can use paper flowers, foil curtains, a photo backdrop, strings of fairy lights, balloons and a lot more to decorate the statement wall for your birthday party.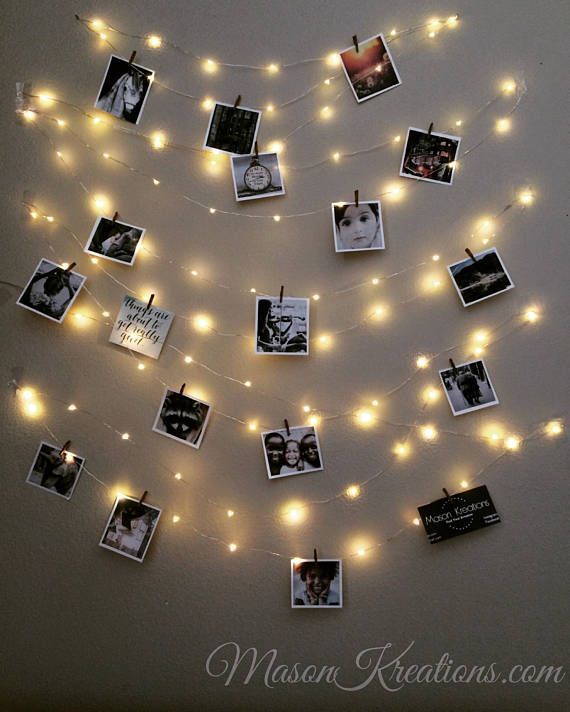 A photo backdrop with fairy lights for birthday decoration (Source: Pinterest)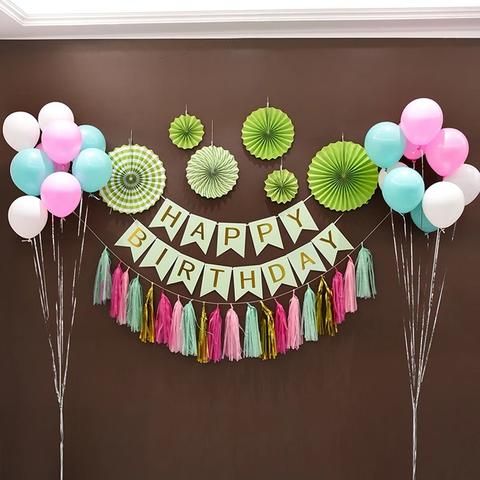 Paper flowers birthday decoration (Source: Pinterest)
5. Perfect Lighting for Birthday Decoration at Home
Lights can set the mood and how. From fancy lantern lights to mood lights to tiny rice lights to fairy lights to disco lights, you can use a few combinations to brighten your birthday party decoration.
You can hang lanterns at the corners, string lights around the curtains or plants, hang the lights from the ceiling, add disco or mood lights or simply put them on the wall- vertically or horizontally.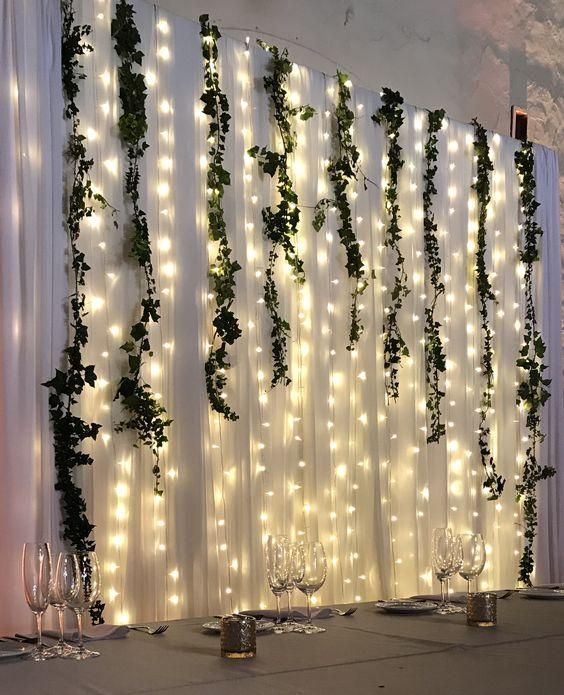 Fairy Lights hanging on the wall for birthday decoration (Source: Pinterest)
6. Birthday Decoration at Home Using Streamers
Glitter and paper streamers are preferred by many when it comes to birthday party decorations. These streamers are available in a variety of colors that you can choose from to complement your decor theme.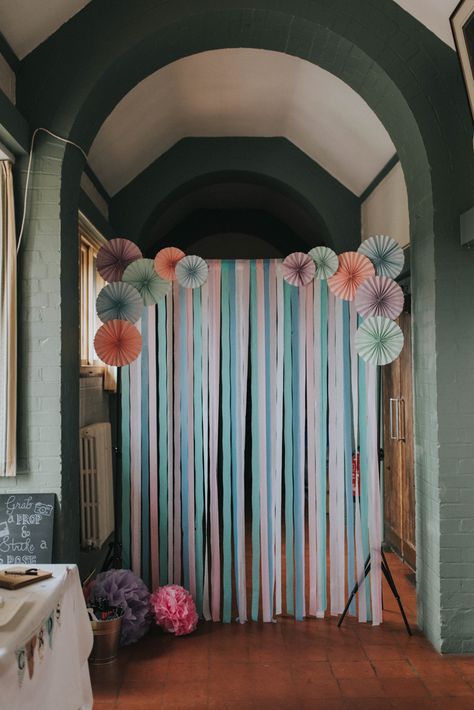 Blue Hanging Streamers for birthday decoration (Source: Pinterest)
7. Flowers for Birthday Decoration at Home
If you want the birthday decoration at home to be subtle, you can just use flowers. Using fresh flowers will not only cheer up the mood of your guests but also will bring in fragrance.
You can either go for flower walls or booths or centrepieces and can add an organic touch to your birthday decor. You can choose a single flower or can mix and match a variety of flowers like marigold, tuberose, etc.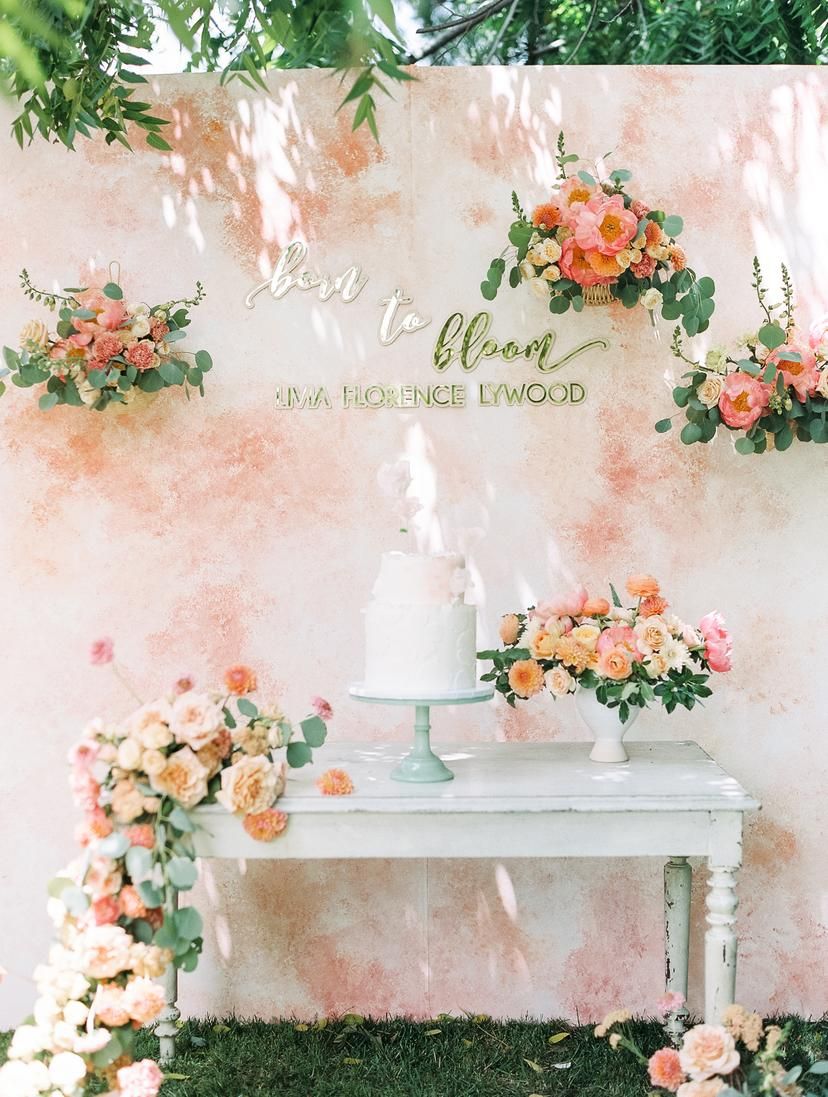 An elegant flower birthday decoration (Source: Pinterest)
8. Table Birthday Decoration
A table is a place where the cake is kept and it has all the attention. Therefore, it is necessary to decorate the table beautifully. You can either place the table in the middle of the room or can stand it against a wall.
Cover the table with an elegant table cloth and keep the cake in the centre. Do not fill the table with a lot of crockery or food items. Try to keep a few snacks at the side and elegantly place very attractive accessories to decorate the table, like plants, flowers, candles, fancy straws, etc.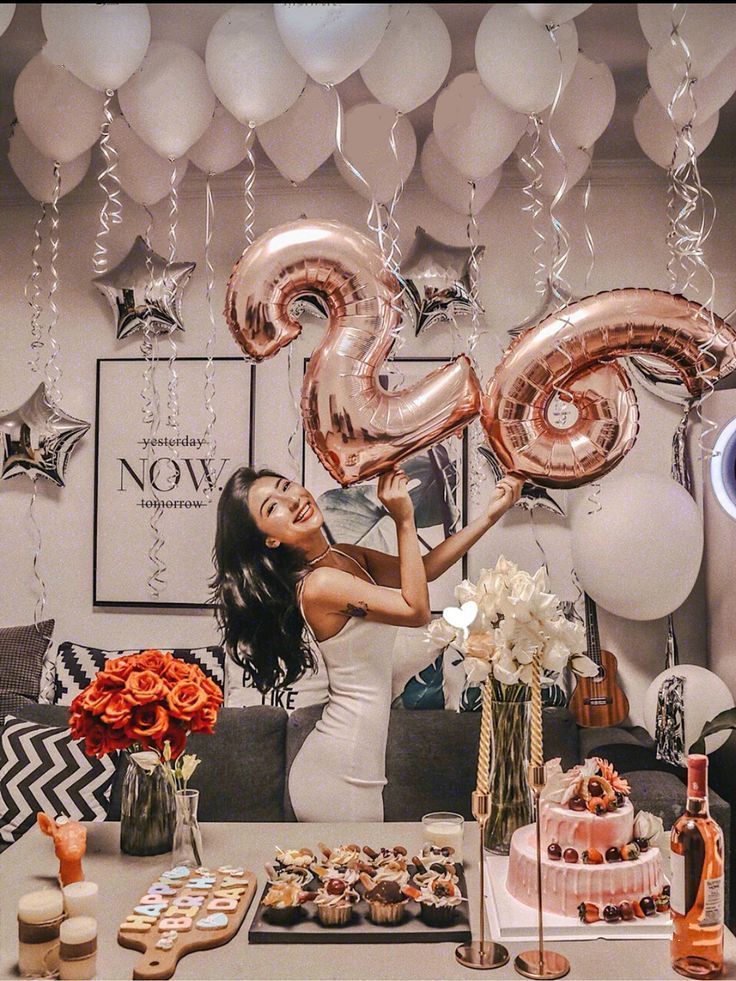 An elegant table birthday decoration (Source: Pinterest)
9. Birthday Decoration Themes
Depending upon the gender, age and likes of an individual, you can select the theme of the party- Bollywood, Sufi, Barbie, Marvel, Money Heist, Cartoon, etc. Once you finalise the theme, decorate the home accordingly.
For example, if you have selected the 'Bollywood' theme, you can paste famous Bollywood dialogues on the walls. Here are a few birthday theme ideas as per the gender:
Birthday Theme Ideas for Girls/Women: One should not stay limited to the pink colour when it comes to decorating the home for a birthday. Colours like peach, lavender, gold, silver, purple, etc. can also be considered.
For young girls, themes like barbie, unicorn, mini mouse, fairy, etc. can be done. For a grown-up woman, themes like Karaoke, masquerade, floral, boho, etc, can be done.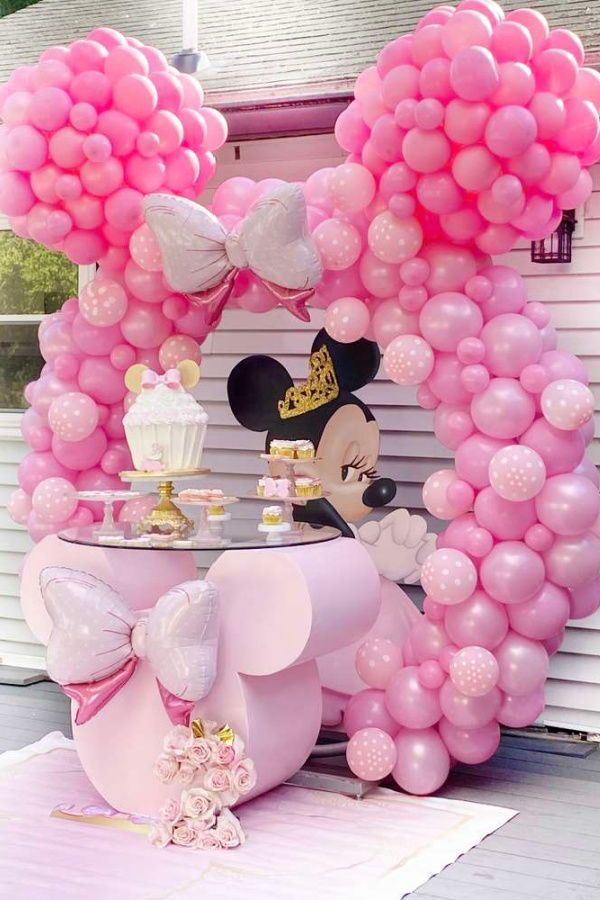 The mini mouse birthday decoration theme (Source: Pinterest)
Birthday Theme Ideas for Boys/Men: For boys, it is preferred to use the monochromatic color palette as boys like dark colors. For teenage boys, themes like Superhero, Marvel, cricket, etc. can be arranged.
For men, themes like cricket, sci-fi, poker, barbeque, etc. can be done while keeping the decor minimal and elegant.
The Superhero birthday decoration theme (Source: Pinterest)
10. Birthday Decoration Ideas for Spouse
If you are planning a surprise for your husband, apart from decorating the living room or the hall, you can add red roses or heart-shaped balloons to the bedroom.
If you have a lot of space in your bedroom, you can make a heart on the floor with the flowers and can decorate it with candles. You can even make a collage of your pictures together and display it with the flower decoration. You could add a cabana in the corner of your room or in the balcony and decorate it with fairy lights.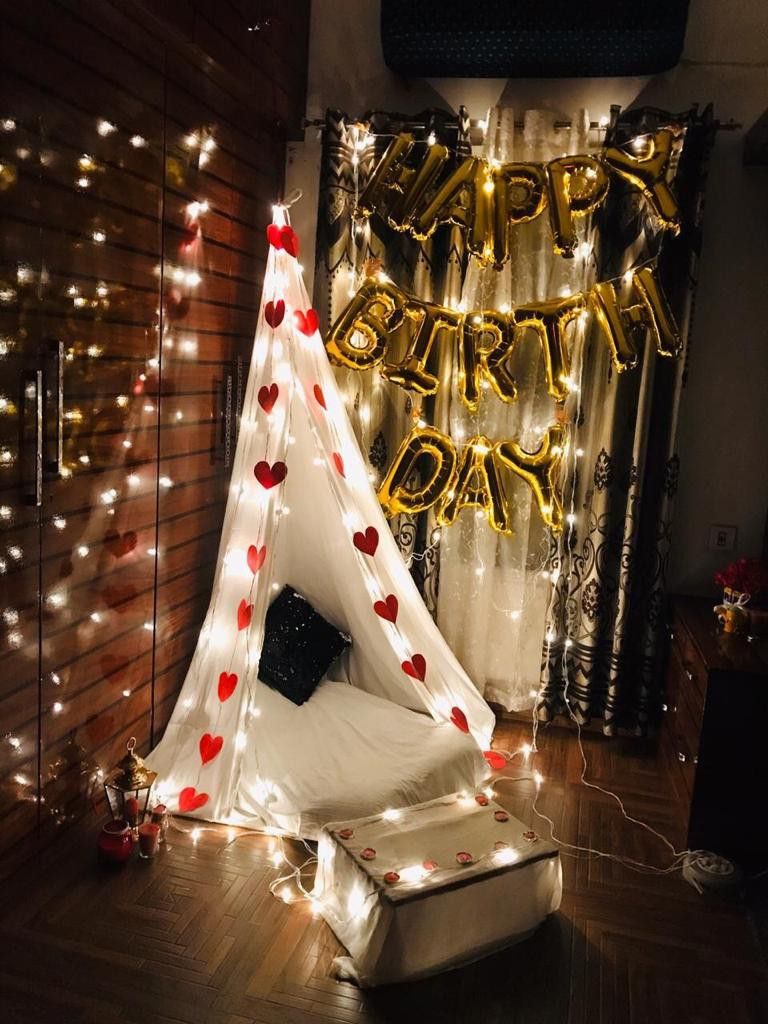 A cabana with fairy lights for birthday decoration (Source: Pinterest)
11. Paper Flower Birthday Decoration
Although real flowers are attractive, they are also costly and short-lived. You can decorate the birthday of your loved ones using paper flowers. These flowers are easy to make and require only a few things, including colourful paper, glue and scissors. You can make these flowers in various sizes and colours and decorate the party area.
Paper flowers are nonperishable and one of the cost-effective items for birthday decoration ideas. It provides the setting with a more lively and colourful look. Not to mention, it will also impress the host due to your efforts to make everything from scratch.
You can stick these flowers on the walls, around the table and in the vases. Adding a few other elements such as balloons, curtains, glitters, or wall pieces will add to the charm of this decoration.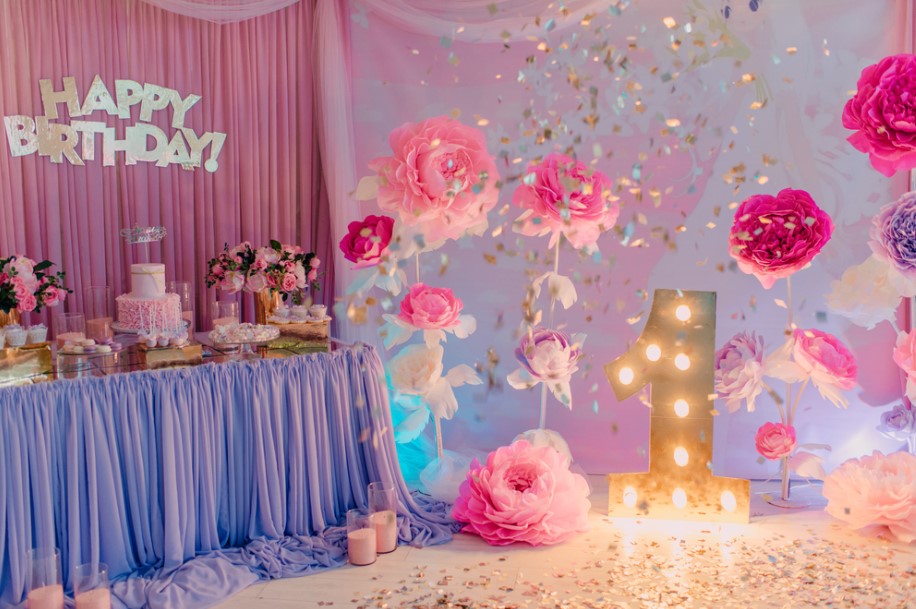 Paper flower birthday decoration
12. Colour-Inspired Birthday Decoration
If you are bored of typical birthday decoration ideas and want to try something new, a colour-inspired birthday decoration is your answer. You can pick one or two favourite colours of the host and decorate the space in that theme. For example, if you plan a birthday party for a boy whose favourite colour is blue, make that colour the main attraction.
Ensure everything is bright blue coupled with white or sliver, from dessert displays to table decorations. Display the location of the party by hanging light and dark blue balloons from the outside of your house. White flowers in large jars with a light blue ribbon around them make lovely centrepieces. You might even have the birthday boy wear blue to match the theme if you really want to go all out.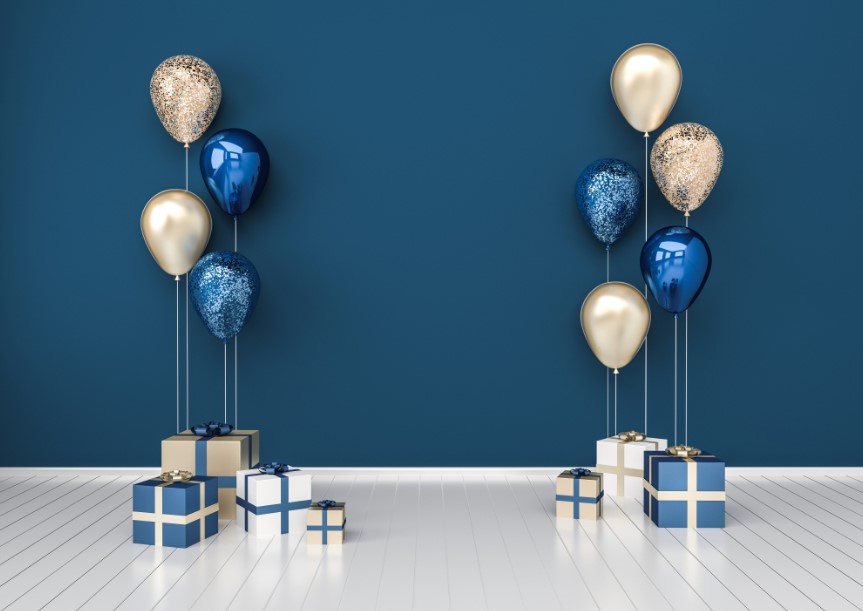 Colour-inspired birthday decorations in blue and silver
Things to Consider While Planning a Home Birthday Party:
Easy Birthday Decoration Tips for Home Parties
Here are some simple and quick decoration tips for home parties:
Swap out the pictures on your wall temporarily with the images related to the theme of your party or with the photos of the guests of honour.

Lay a tablecloth or some yards of fabric over the dining table to brighten up the table instantly.

Freshen up the atmosphere by bringing your outdoor plants inside or making a minimal floral arrangement in small vases throughout your home.

As mentioned above, dress up your windows or walls with fairy lights to create a festive vibe.

Set the mood right with colourful lights, candles and light dimmers.

Take out all your stored beautiful dishes, fancy tableware, serving bowls and glassware and flaunt them on those special occasions.

Switch up your plastic folding chairs with classier wooden chairs. If the budget doesn't allow it, you can rent them. Decorate them with balloons, tulle or ribbon to lend your seating a stylish flair.
Birthday Decoration: Trending Themes for Kid's Birthday Party
A birthday is a day on which everyone looks forward. However, a kid wants a birthday where he gets toys, his favourite food and a birthday party in their favourite cartoon character theme. Let us explore a few of the trending themes for a kids birthday party:-
Barbie theme

Mickey theme

Unicorn theme

Minions theme

Marvel character theme

Chotta Bheem theme
Birthday Decoration: Trending Themes for Adults
The best birthday for an adult is hanging out with friends and relaxing. If you wish to have a relaxing time, then you can consider the following birthday themes:-
Cheese and wine party

Karaoke evening

Barbeque party

Card poker party

Spa party
To decorate the house, you can use fresh flowers, candles, stylish dinnerware sets etc.
Birthday Decoration: Eco-friendly decorations
Lately, eco-friendly birthday decorations are trending. Using eco-friendly decorations items will give the same amount of happiness or more because you will work towards a sustainable environment. Here are things which you can use for eco-friendly birthday decorations:-
Colourful paper decorations

Origami flowers made up of recyclable material

Wall of photos, pin photographs of the birthday girl or a boy

Use fresh flowers

Opt for biodegradable and non-toxic plates, cups, straws etc
How to Decorate Your Living Room
Have a look below at some easy tips for decorating your living room:
Include some plush textures such as leather, cotton, wool, stone and metal to accentuate the beauty of your living space.

Play some woodwork with side tables, wall panelling, sofa legs, carved art pieces, picture frames and movable stools and bring in the sense of warmth.

Mix and match the upholstery to give your living room a sense of maturity and bring in a cosy and welcoming feel.

Lay a patterned rug over the flooring to infuse an instant dose of positive energy into your living room decor.

Make a beautiful combination of different neutral finishes such as a grey sofa, brass hardware, blue-grey cabinets and caramel leather to create a rich feel in the atmosphere.
Conclusion to Birthday Decoration Ideas for Home
In the end, just remember that you are throwing the birthday party for your friend or family member to feel special and therefore, he/she must have all the attention. The above DIY birthday decoration ideas for your home are not only easy but will also definitely help to bring life and light to your birthday party.