Raise your garden decor to the next level by adding a DIY wishing well, will bring a little mystery too. Build the best looking wishing well inexpensively with these 15 free DIY wishing well plans that involve mostly building with the wood and other recycled items. First, you have to build the base that may be of any shape from hexagonal to a round shape to a square box-like. Next, you can install the extended palings that will hold the roof on them.
For building a roof, there can be too many options that you can see all by browsing this collection of 15 FREE wishing well plans that involve lots of enchanting designs that will make you say a big wow at a very first look. Feel free to check out all these wishing well ideas and pick the one that impresses you the most.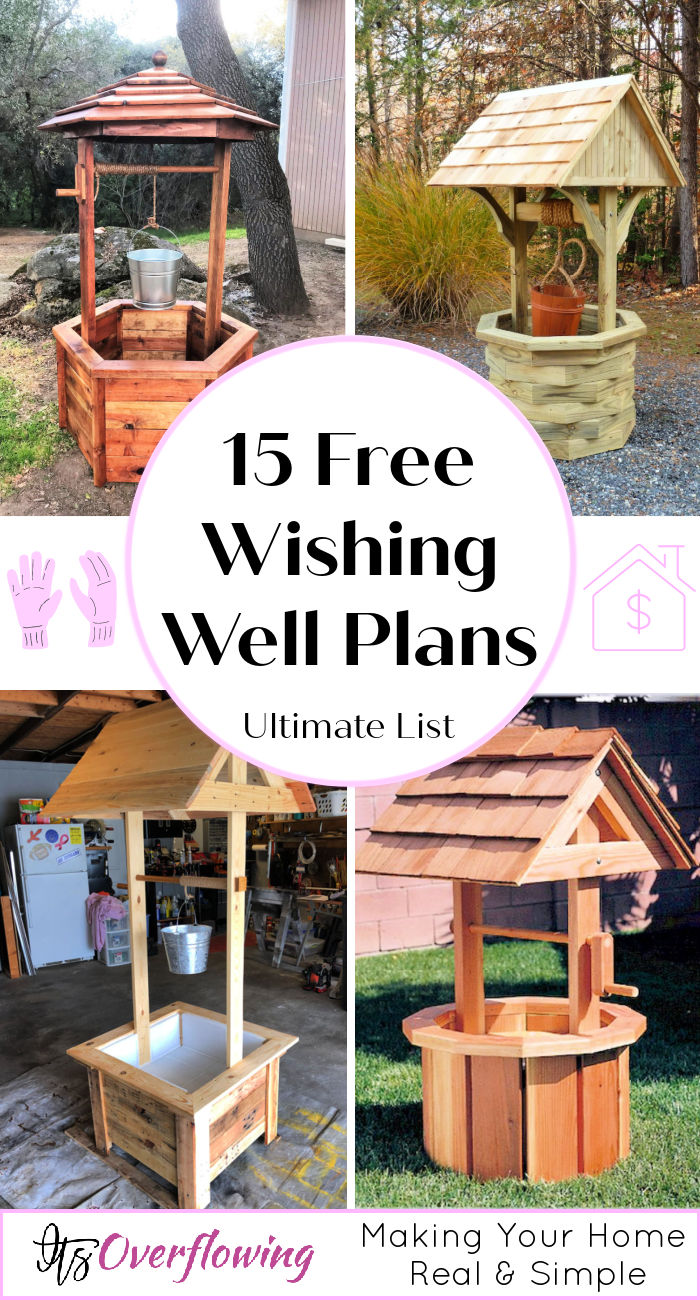 There are wishing well plans for every skill level and budget. You can use a wishing well in a number of different ways in your garden for functional and decorative uses. Fill the base of the wishing well with potting soil and start using it as an accent planter in your garden. It will create a big focal point in your garden if used so. DIY wishing well is highly famous around the globe due to its magical properties and has often been a part of storybooks and movies. So, it will be a big center of attention for the kids, and you browse these all DIY wishing well plans to get yourself inspired.
1. Wishing Well Building Plan
Update your garden decor by adding this DIY wishing well decor or centerpiece. It can be there a gorgeous planter and use it to create a big focal point too in your garden. You need 2×6, 2×4, 1×4, 1×6, and 4×4 to build this wishing well that is looking amazingly beautiful. Details here pinspiredtodiy
2. How to Build Wishing Well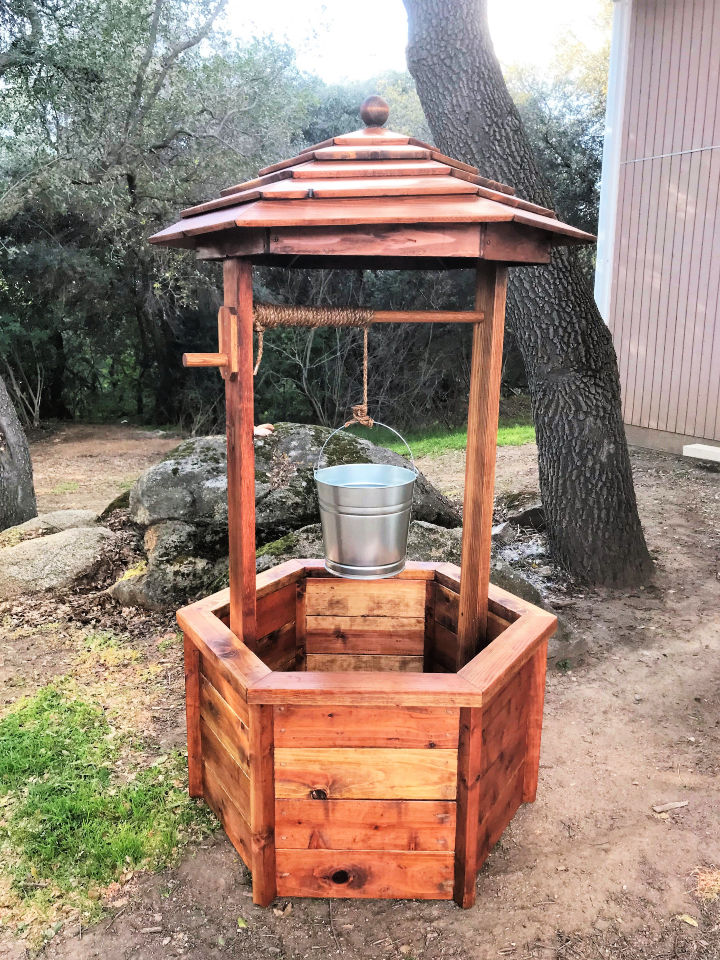 Bring great visual details to your garden by adding this DIY wishing well featuring a square base and a red-painted chevron roof. Construct it using 1×6, 2×4, 2×3, 2×2, 1×4, and around lumber spindle. It comes with shingled chevron shelter that also makes a cool like of this wishing well. A perfect garden decor centerpiece. myoutdoorplans
3. Homemade Wishing Well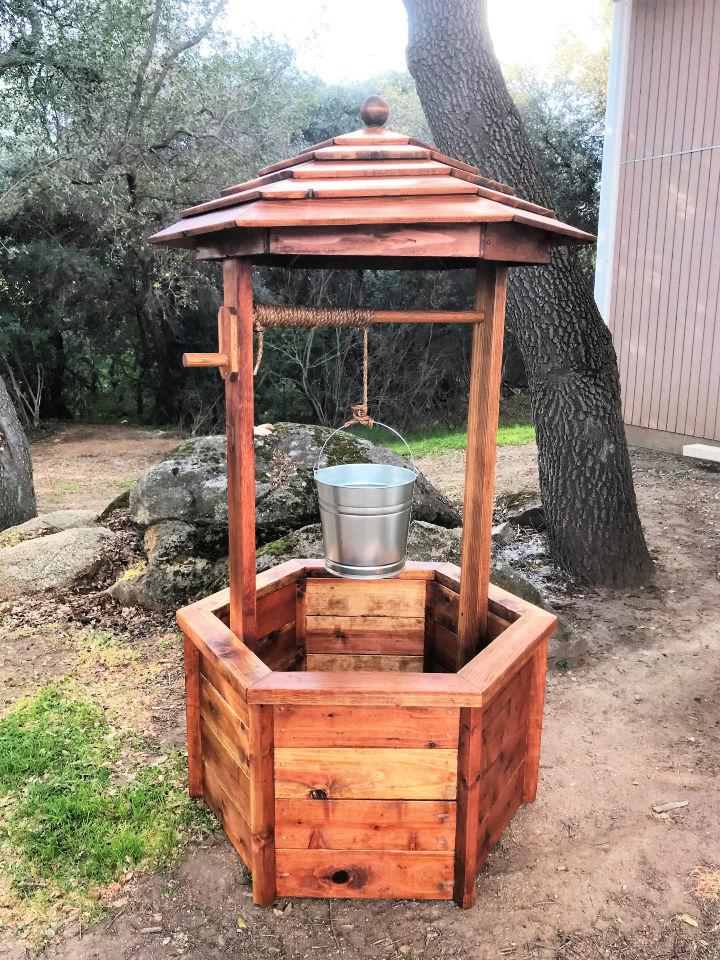 A fantastic backyard decoration and a cute wooden planter, this homemade wishing well is both. Make it with lumber, pine, or cedarwood that are highly resistant to outdoor weather. Build first the hollow square frames and stack them to build a box-like base of wishing well. Next, install the vertical roof stakes and install the lid frame, including rafters. Finish the lid solid using two recycled old table wood panels. howtospecialist
4. Burn Barrel Wishing Well
The washing machine drums are a great choice to make the burn barrels and outdoor fire pits. So, give extra wings to your creativity and make lighted or fired wishing wells too out of them, will make an outstanding outdoor decor. Use the perforated steel for building the chevron roof of this wishing well. instructables
5. Wishing Well from Recycled Tires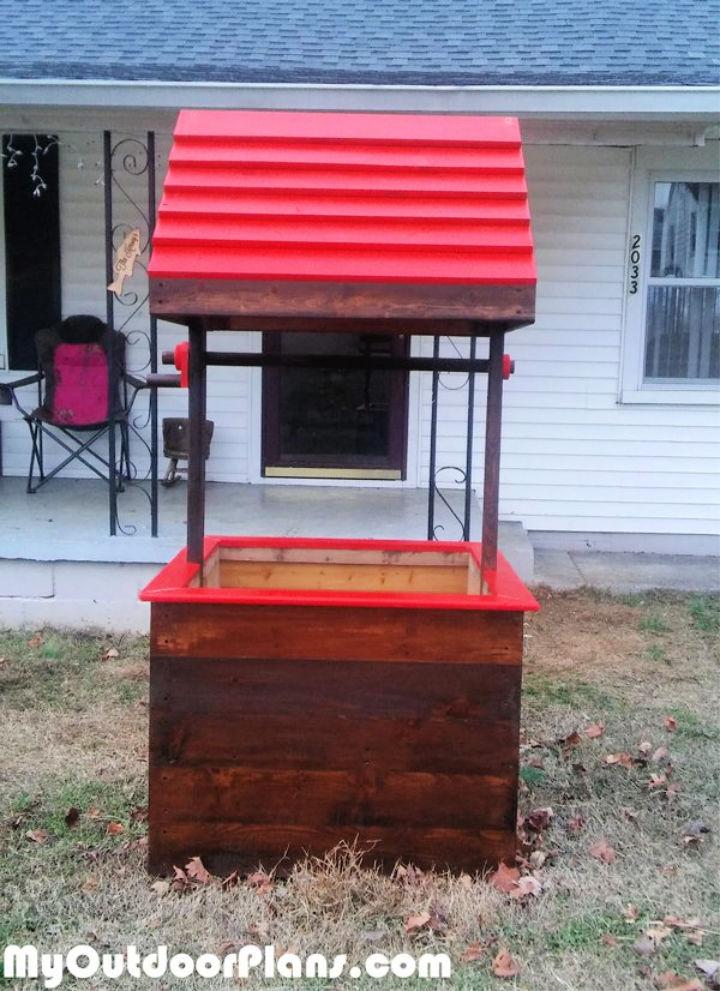 A one of the most outstanding decor to get for your garden or backyard, a well-wishing planter made out of recycled tires. Stack the tires to build the whole base of the wishing well. Next, build the roof using roofing materials and get it on the timber roof supports. Finish with a hanging bucket planter with exterior paint. theownerbuilder
6. 6 Ft. Wishing Well Plan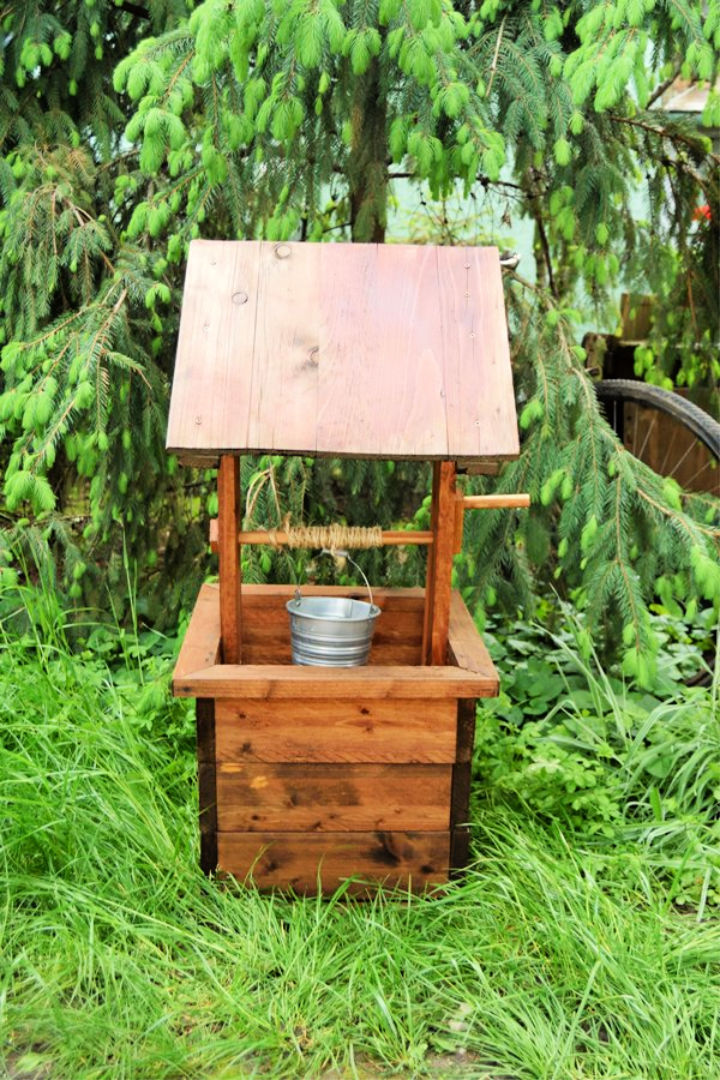 You will give ten out of ten to this wishing well that is 6ft tall. It has the whole bottom made of weather-resistant lumber and comes with a cedar-shingled roof. Finish it up with wooden bucket rope and with a crank handle. Give it a nice wood finish or paint for a totally new look. chesapeakecra
7. How to Make a Decorative Wishing Well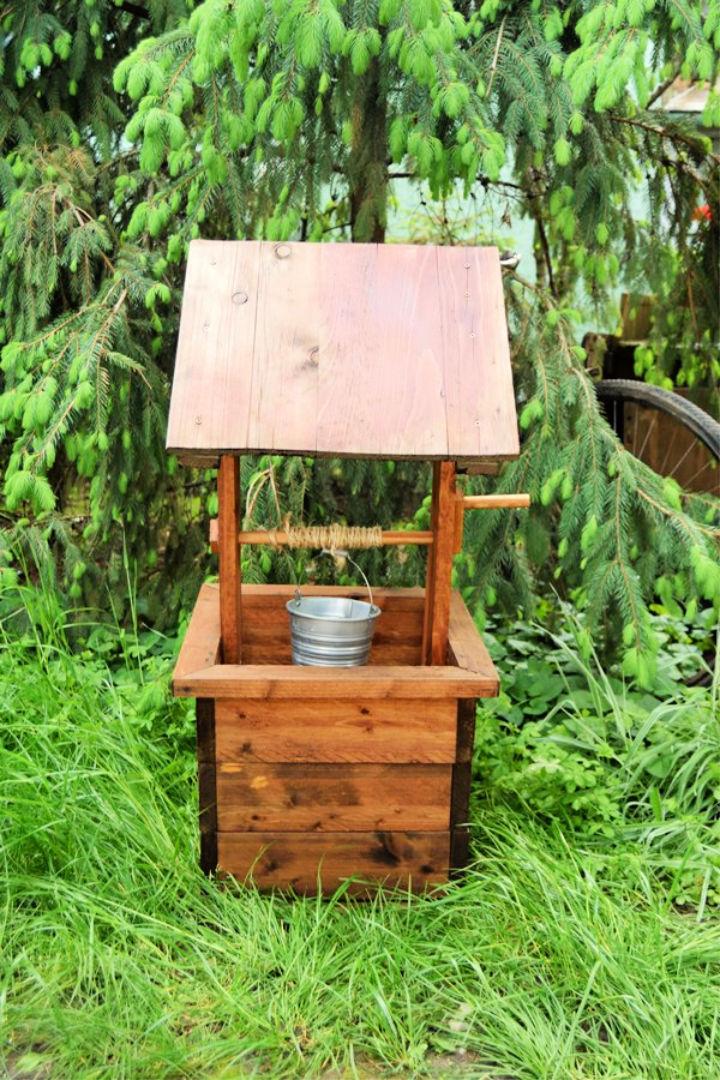 Give your green land a prehistoric touch by adding this wishing well, will create a big focal point in your green space. Build this wishing well using mostly the 2x3s and 1x4s, and it comes with a round bottom and with chevron shelter, the gorgeous features of the design. Details here dreamlandsdesign
8. Garden Wishing Well
Get your garden look a little mysterious by adding this DIY garden wishing well. This garden wishing well comes painted to matching the exterior of the house and looks great with the shingled roof. A little touch of red in the dominant white appeal of this wishing well just looks extra beautiful. hometalk
9. DIY Tabletop Wishing Well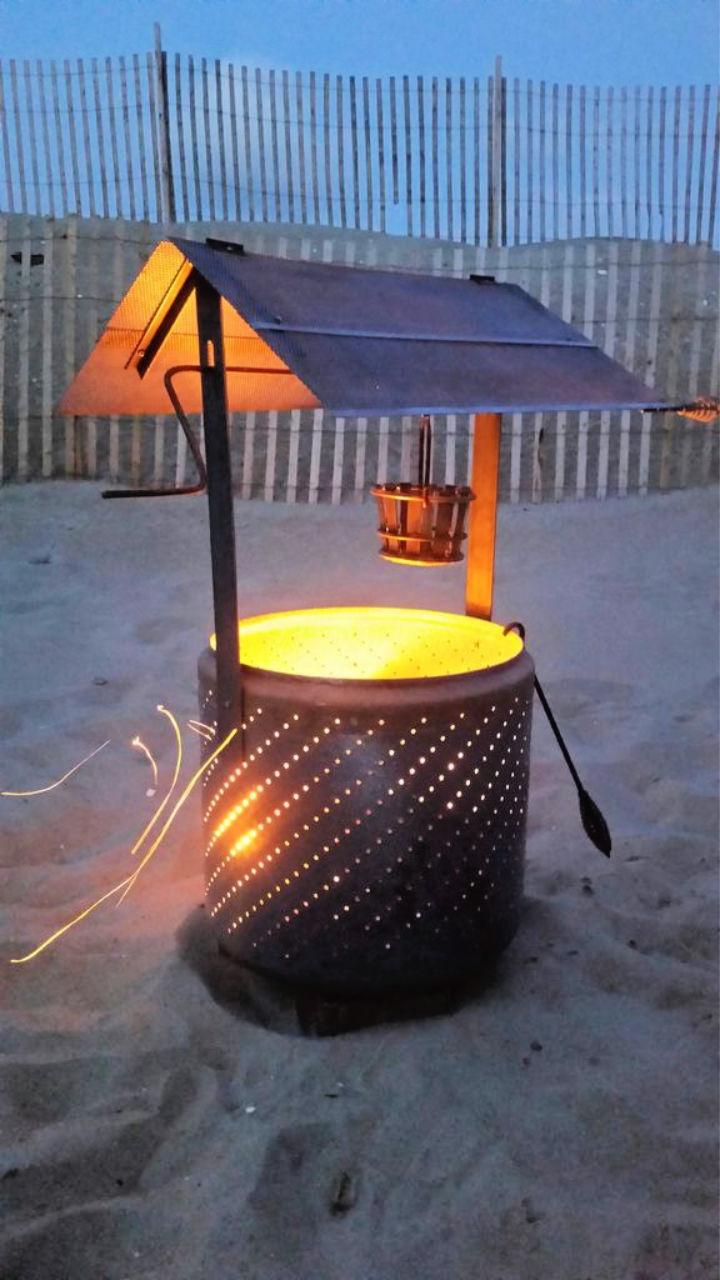 You will surely fall in love with this wishing well that is to make with a plastic bucket. Wrap the bucket in some wood style doormats and next put together the wooden dowels to create the roof frame. Use the leftover meat to cover the roof frame. Support the roof with tree branches that can be fixed in the lid of the base bucket. weddingbee
10. How to Build a Wishing Well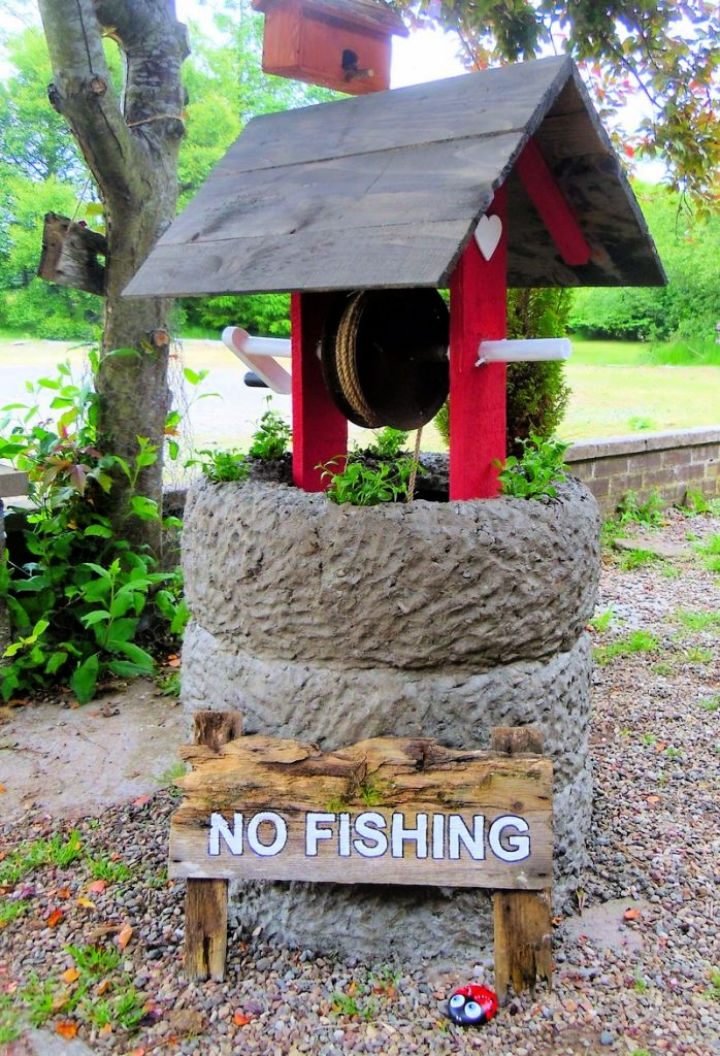 Get here free plans, diagrams, and step-by-step instructions to build a wishing well like a pro. Build it with 2×6, 2×4, 1×4, and 1×1 round lumber. For roof use the 20sqft of asphalt roofing shingles. Build with these woods from base to extended palings to rafters. Details here howtospecialist
11. Wooden Wishing Well Plan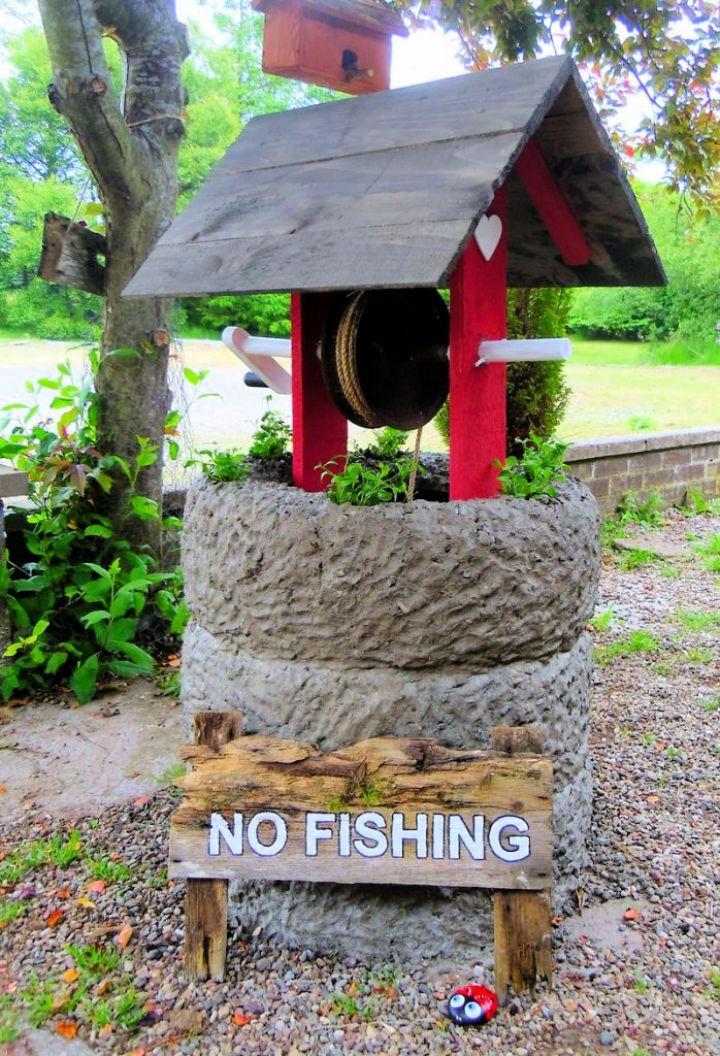 Get crafty with the 1×4 and 1" lumber dowel to build this wooden wishing well. It will be the perfect planter to add to your backyard and will be a big show-stopper there. Build all with the 1x4s from the base to extended palings to roof and even the roof rafters. Full tutorial here myoutdoorplans
12. DIY Garden Wishing Well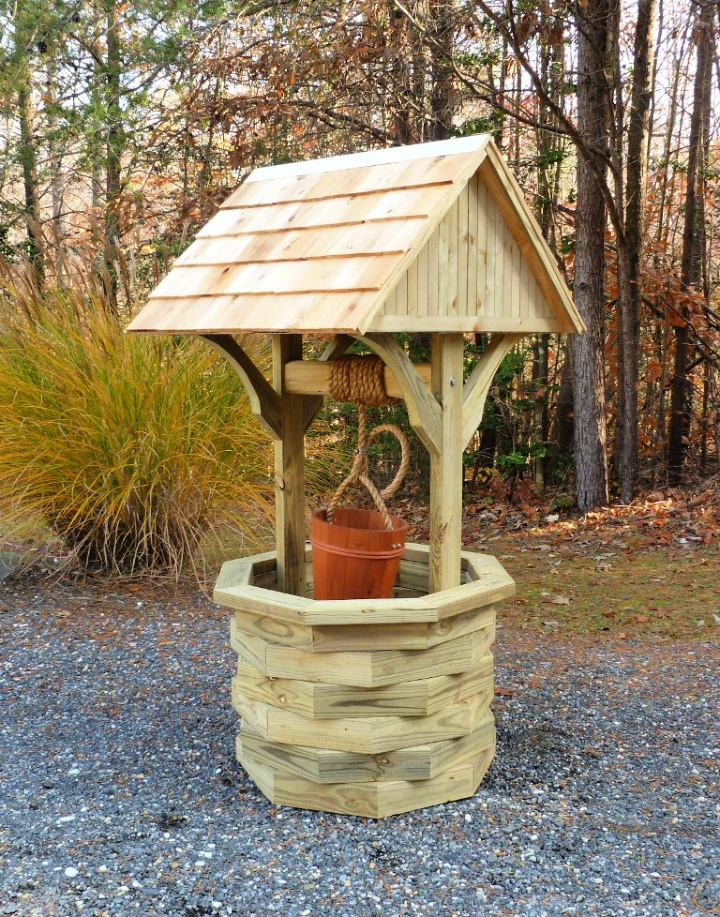 Style up your garden by adding this unique decor, the superb handmade garden wishing well. Use it as a handsome wooden planter there or let it be a mysterious type of decor there. Go with the 1x4s wood slats to build this garden wishing well, having superb design, and a well-built roof and overall structure. howtospecialist
13. DIY Wishing Well Plan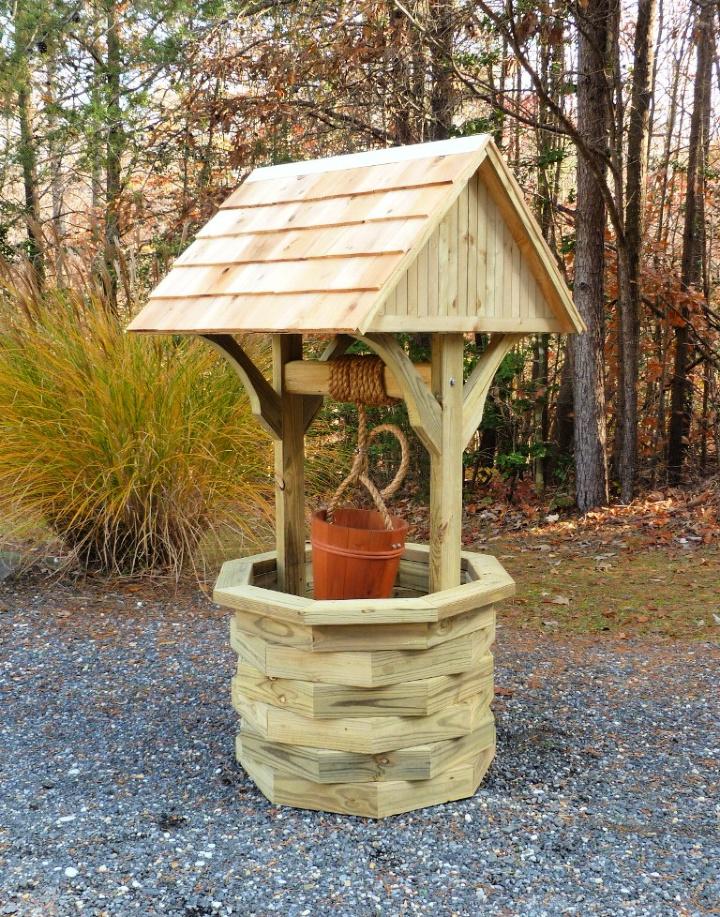 Put together the 2×6 and 1×4 to build this wishing well. You just no need to puzzle at the construction, the free provided plan is already there to help you at every single step. Adorn this wishing well more by adding decorative braces to between the extended palings and roof rafters. Details here construct101
14. Making Wooden Well for garden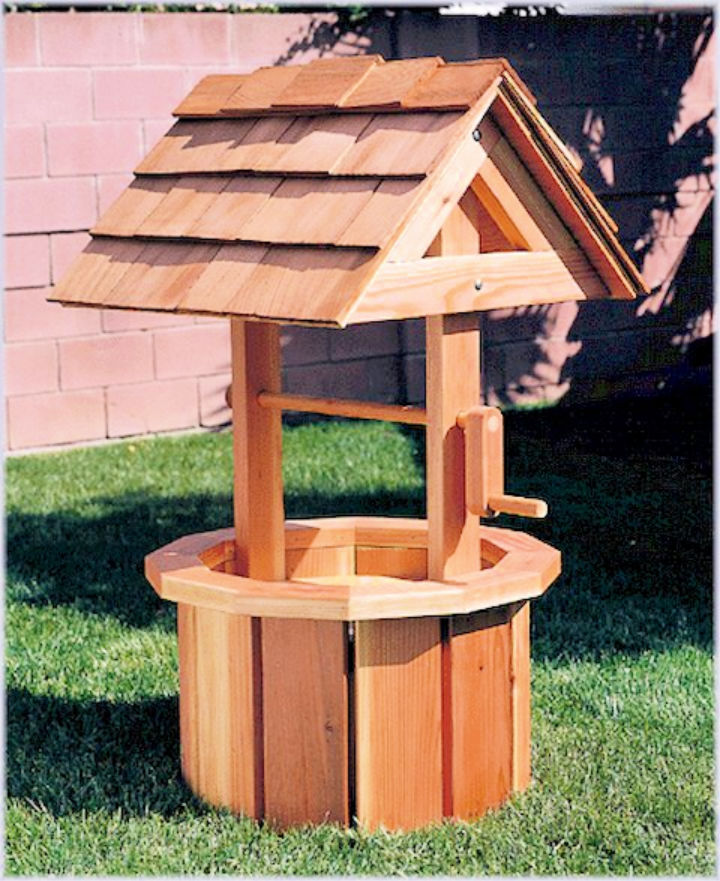 Grab the free video instructions here about how to build a wooden wishing well for a garden like a pro. It comes with a hexagonal base and will impress with the bigger shingled roof too. Use it as a big wooden planter, will make a great focal point in your garden. Full how-to guides here youtube
15. How to Make a Wishing Well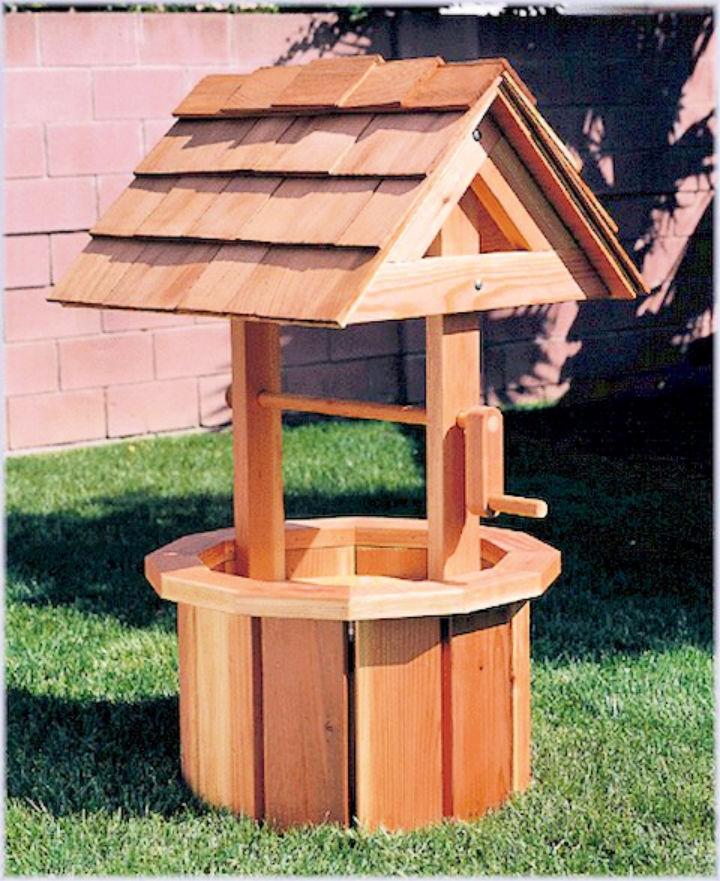 Here is what you can do amazing with the leftover, recycled, and old woods when having garden decor always on the brain. Just build this great looking wishing well that impresses with a superior wood structure and is looking just damn lovely. Fill it up with potting soil and use it as a gorgeous planter in your garden. instructables
Conclusion:
Are you on a mission to boost the beauty and decor of your garden? Want to do it by adding one-of-a-kind and unique types of garden decor? Then you must go with this DIY wishing well plans that have a great mysterious history and will be amazing to feature in your garden. At the same time, they can be used there as a lovely planter hence adding a lot in the beauty of your garden. These DIY wishing well ideas will show you how to cheaply build a wishing well that will unbeatable in beauty. From using plastic buckets to recycled wood to washing machine drums, you can use all to build a lovely looking wishing well in no time.
Gardening: No time for a traditional, in-ground vegetable garden? A DIY raised garden bed is a shortcut to a plentiful harvest, using the square foot gardening concept.
Woodworking: Follow these Free woodworking plans to build racks, cabinets, patios, picnic tables, outdoor furniture, toys, and thousands of more DIY projects for beginners and all skill levels.