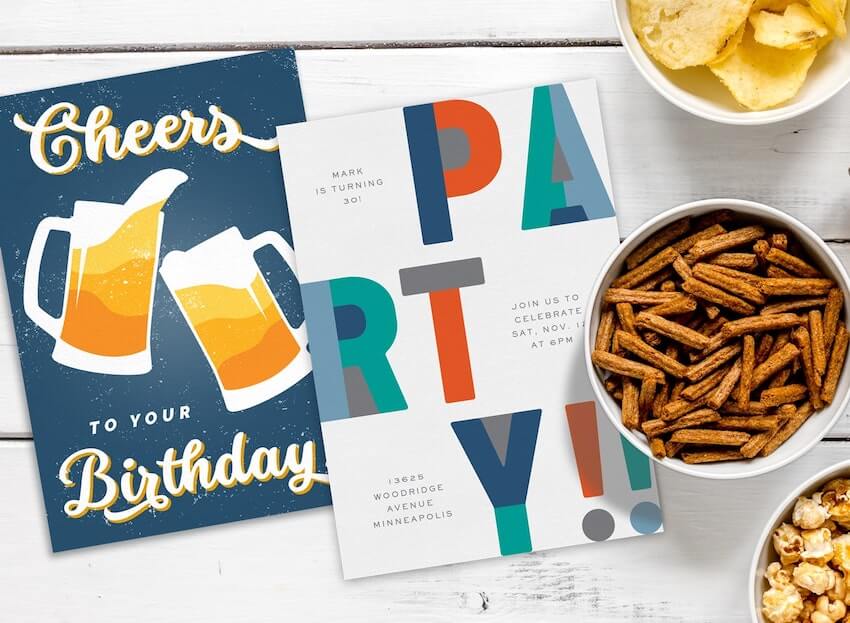 Birthdays are a time to make your loved ones feel exceptional. Show the special man in your life how much you care with happy birthday wishes for him. Whether you want to be sweet and sentimental for a significant other or get silly with a birthday greeting for your best friend, there are plenty of ways to express your feelings.
Not sure what to say when crafting happy birthday wishes for him? We'll help you find the right words so you can bring a smile to your spouse, father, grandpa, colleague, or other special guy.
Happy Birthday Wishes for Him: Here's What to Say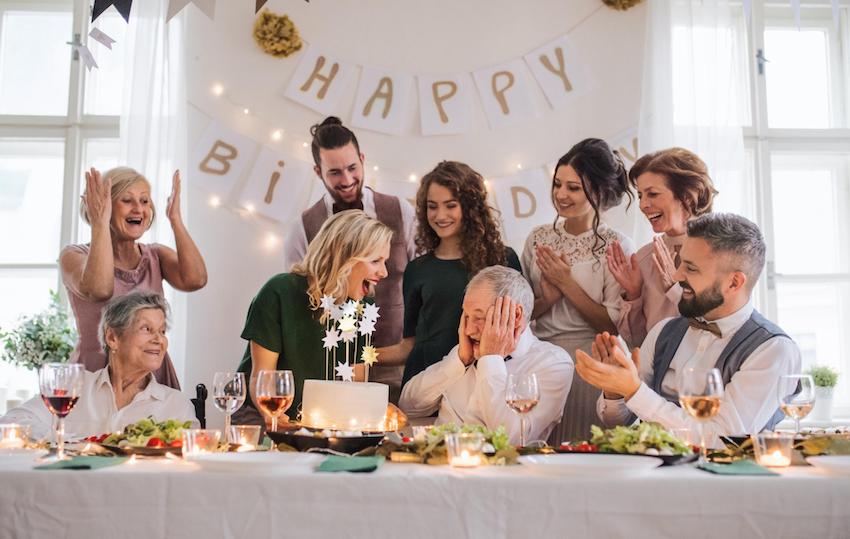 Figuring out the right words starts with knowing your audience. Think about the birthday card recipient. If he's a significant other, you may want your words to be sweet and sexy. If you're sending a card to a family member or best friend, you might want a more humorous or lighthearted tone. For a male colleague, you'll likely want to be more professional. Here, you'll find happy birthday wishes for him that cover everyone on your list.
For Dads and Dad Figures
Dad and dad figures make a huge impact on our lives. When it's his birthday, you want him to feel special and know how much his presence has meant to you. In addition to sentimental wording, consider weaving in some dad jokes if you enjoy laughing together.
Here are some fun and sweet birthday messages for the father figure in your life:
All of my childhood memories are filled with your beaming smile and belly laughs. I really did end up with the best Dad in the whole world. Hope your day includes a nice cold stout, beautiful weather on the boat, and a great big fish.
I hope you have the most wonderful birthday, Pop! You made each of mine so special and I can't wait to spend today celebrating you. Thanks for making the world a brighter place.
You're not just any dad, you're the coolest dad. Out there enjoying the best of retirement, dining on pizzas in Italy, and cruising in a Mini Cooper in England. I hope you have the best birthday ever! I know this year will bring the best adventures yet. Sending you lots of love on your special day.
You just keep getting older! That's alright, you're still a young rockstar in my eyes. Keep on keeping on and have the best birthday ever.
Dad, you've always been my biggest supporter. From holding my hand as a tiny tot to never missing a game, you've made each day of my life memorable. Wishing you a happy birthday and all the best for the next year. I'll always be your number one fan!
Wishing a very happy birthday to my favorite father. After all, you're the only one I've got! But seriously, I hope you have a wonderful day. Thanks for always being by my side and making everything easier.
What type of music scares birthday balloons and you? Pop! Don't worry, we didn't put any modern music on your birthday playlist. Here's to a fun birthday party for an oldie but goodie. Love you, Dad.
The best gift I've ever had was getting to call you Dad. I hope you have a beautiful birthday!
For Significant Others
A loving message is always nice for that special partner, but you can still be funny and clever. Make your message personal by highlighting some of your favorite moments or activities together.
Here are a few happy birthday wishes for him:
Wishing a beautiful birthday to the most beautiful soul I know. You light up each day with your humor and magnetism. My life is sweeter thanks to you. Have a blessed birthday!
Happy birthday to my soulmate! You make each and every day of my life so magical. Thanks for picking me up when I'm down, supporting me through life's challenges, and just being the best human being. I hope your birthday is as wonderful as you are.
Wishing the happiest of birthdays to the love of my life. Each day with you is a joy and I can't wait for more years of happiness and adventures.
The best boyfriend on the planet deserves the best birthday party he could dream of. I hope you're enjoying your surprise birthday party, surrounded by all your favorite people. You light up our lives and we wanted to make you feel like a king on your special day. Now, let's keep celebrating!
Dear Boyfriend, I hope you have a fantastic birthday. You are a wonderful man who makes a valuable impact on the lives of those around you. From the day I met you to every day we've spent together since, you've brought me so much joy and laughter. Cheers to another trip around the sun!
Happy birthday to my Prince Charming! I've been on cloud nine ever since you swept me off my feet. You're my favorite person on the planet and I hope you have the best day ever!
For a Best Friend or Family Member
Happy birthday wishes for him aren't just for dads and significant others. You can also send birthday wishes to best friends and relatives, from cousins and nephews to brothers, grandparents, and uncles.
Here are some fun and sentimental birthday wishes for a friend or family member:
I hope you relish your birthday, just like your favorite jar of pickles. Enjoy your birthday celebration and don't forget that your favorite cousin got you the best present.
May God grant you good health, happiness, and prosperity in the years ahead. Have a happy birthday. Enjoy your special day!
Wishing the happiest birthday to my best man. Thanks for backing me up in the bar, joining my coed softball league, and offering the best career advice around. I couldn't ask for a better friend.
Instead of a birthday present, we got our favorite hunter a birthday pheasant! We hope you have the best birthday and an even better year.
It's your bday! That means it's time to party. Can't wait to celebrate with you on the big birthday trip to Cancun this year. It's sure to be a great time and we promise to bring you back in one piece.
To my little brother, I hope you have a wonderful day. I'll try not to torment you too much. Plus, I finally got you a present that won't embarrass you in front of your friends. Here's to many more years of being silly together.
For a Colleague or Employee
When wishing a colleague or an employee a happy birthday, your tone should suit the nature of your relationship. You can still be humorous, but keep the jokes workplace appropriate. For example, if your office is formal, stick to professional wording. If your office is more laid back and low-key, you can work in a joke here and there. Just make sure the coworker actually wants their birthday recognized, or you could end up with a big headache.
Here are some birthday greetings for a professional acquaintance:
I couldn't ask for a better cubicle neighbor. I hope you have a great day celebrating your birthday. Let's grab drinks later this week if you're free!
Work can be a drag sometimes but you make every day bearable. Please don't ever quit and leave me here alone. Have a happy birthday!
Best wishes to one of our company's biggest assets. We hope you have a great birthday and a prosperous year.
Happy birthday, Paul! Our company wouldn't survive without you. We're so lucky to have you on board.
Wish Him a Happy Birthday with Fun Birthday Cards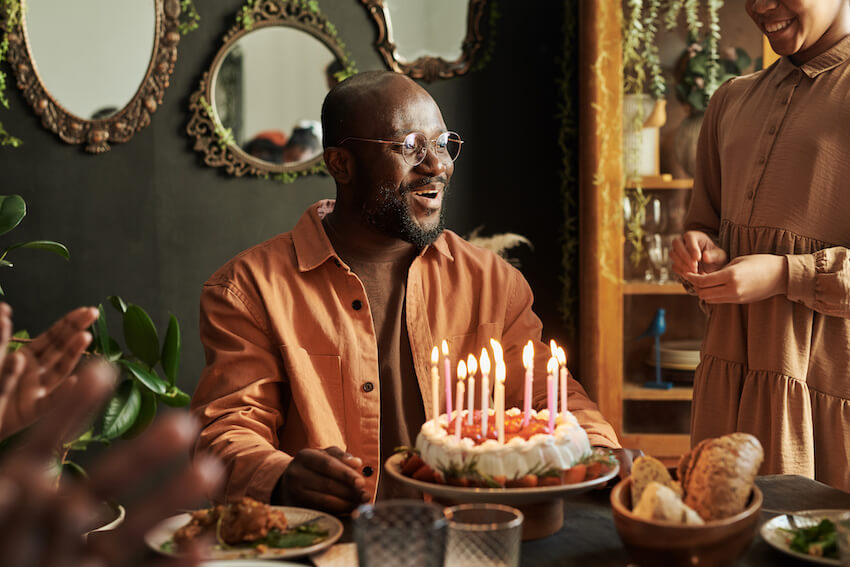 Now that you know what to say, you need a greeting card. Greenvelope has hundreds of designs you can customize to send birthday messages for someone's special day. Here are some of our favorite digital birthday cards you can customize for him.
1. HBD Card
Wish a special person a happy birthday with this colorful card. It's appropriate for friends, family, and coworkers thanks to the simple (yet vibrant) design.
2. Birthday Cheers Card
For the man who loves beer, this cheerful card is a perfect choice. It features two large mugs of beer and a bold birthday message that's great for Dad, a relative, or your best friend.
3. Super Radical Card
This radical card is perfect for a cousin, nephew, or friend with youthful energy. It offers funky vibes and there's plenty of room on the back for a longer birthday message.
4. Getting Older Card
For a fun way to celebrate Dad or other father figure, this getting older card is the way to go. It's ideal for dads who are young at heart, even if they are getting older and wiser with age.
5. Happy Paint Speckles Card
This formal yet fun birthday card is ideal for sharing happy birthday wishes for him, be it your grandpa, uncle, or coworker. It features gold foil splatter paint and you can make it your own by changing the message and color palette.
6. Sweet Snapshot Card
This sweet card is a beautiful way to wish a boyfriend or loved one a happy birthday. Upload your favorite photo of you and the birthday boy to bring back memories and a smile to his face.
7. Trendy Type Card
This trendy card invites the birthday honoree to eat birthday cake and celebrate in style. Insert a photo of the birthday man and write a few sweet wishes on the front or back of the card.
Make the Birthday Boy Feel Special
With these happy birthday wishes for him, you can strike the right tone to share your sentiments. From lovers and friends to coworkers and family members, there's something for everyone.
Want to make their day extra special? Plan a birthday party! You can host an outdoor party or opt for a fun birthday party theme and send birthday invitations in a matter of minutes. Even if you don't host a celebration, sending your birthday wishes to him will remind him of how special he is all year round.