Powerful worship songs set the mood for prayers, and they also have messages that educate you about the gospel. Singing is one of the ways you can connect with God, and songs of worship can help you do that with ease. Nigeria boasts several talented worship singers, and if you love hymns, here are top Nigerian praise songs to put you in the right mood for prayers. Theophilus Sunday, Nigerian gospel minister and singer, shares the importance of worship during prayer.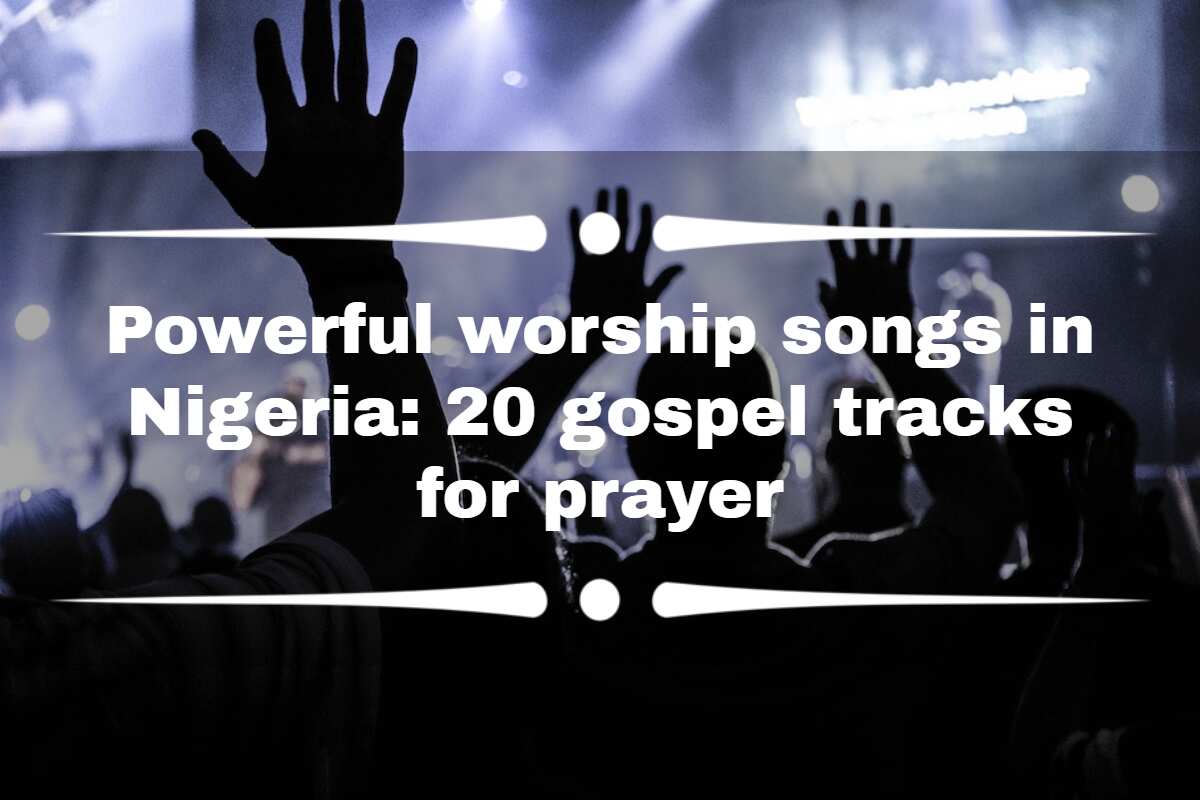 In most worship places, praise and worship songs precede prayer sessions. The essence of this arrangement is to help congregants connect with God through songs before they begin worshipping.
During a discussion with Legit.ng, Theophilus Sunday, a renowned Nigerian gospel minister and singer, expressed that worship is a fundamental aspect of a Christian's life. He went on to explain:
20 powerful worship songs
When it comes to deep Nigerian praise and worship songs, Nigeria ranks among the top countries with many worship song artists in Africa. Some of them, such as Sinach, Judikay, Steve Crown, and Mercy Chinwo, have gained worldwide fame with their worship tracks. Here are 20 powerful worship songs in Nigeria that will make you feel like you are in God's presence.
1. Way Maker by Sinach
Sinach is one of the best gospel artists from Nigeria, with numerous uplifting songs. Her song Way Maker from the album Live at Easter was released in 2021. If you love worship songs, this track should not miss in your playlist as it has touching lyrics. In the song, the artist narrates how the Lord is merciful and faithful, calling him a way maker, miracle worker, promise keeper, and light in the darkness.
2. Excess Love by Mercy Chinwo
Mercy Chinwo, winner of the Nigerian Idol season 2, is a gospel singer and songwriter. She has released many gospel tracks, but her song Excess Love seems to have won the hearts of many. The artist released the song Excess Love in 2018 from the album The Cross: My Gaze.
3. You Are Mighty by Nathaniel Bassey
Nigerian pastor, singer, trumpeter, and songwriter Nathaniel Bassey released the song You Are Mighty from the album Hallelujah Again in 2021. He features singers Chandler Moore and Oba in the praise song. He praises the almighty God, saying He is the centre of power and strength and has a track record of keeping words. The track was nominated for The Headies Award for Best Inspirational Single.
4. We Raise a Sound by Nosa
We Raise a Sound by Nosa is a song from the album Green Worship 4.0 by Nosa. Nosa is a recording artist, singer, songwriter, and performer recognised for other gospel hits such as Most High and God Bless Nigeria. The artist calls upon every nation, tribe, and tongue to glorify, honour, and praise the Lord.
5. Worship Your Maker by Dunsin Oyekan
Worship Your Maker is one of the best tracks from the album The Gospel of the Kingdom, released in January 2021 by Dunsin Oyekan. The artist has released numerous worship songs and is among the best in Nigeria. He heaps praise on God, saying He is indescribable in words and his mind cannot understand Him. The song encourages everyone to worship God with their spirit.
6. Mighty God by Joe Praize
This worship song by Joe Prize was released in October 2012 and is from the album My Praise. Joseph Omo Ebhodaghe is a worship leader, music director, songwriter, and singer known for other Nigerian worship songs such as Joy Overflow, Unchangeable, and Everything Is Blessed. In Mighty God, the artist extols God's greatness and glory and recognises His beauty for every situation, mentioning that He is the beauty of the world.
7. Ekwueme by Prospa Ochimana
Prospa Ochimana features Sinachi in the worship song Ekwueme released in 2017 from the album Ekwueme to the World Project. It puts you in the right mood for worship as it is a slow-paced track with powerful lyrics. The song, whose lyrics are mostly in a local Nigerian language, emphasises the greatness of God, saying that no one is like Him who keeps his promises.
8. Zoe by Odunayo Adebayo
Zoe by Odunayo Adebayo is from the album with the same title, and it was released in July 2021. Singer and pastor Emmanuel Iren has been featured in it. The song amplifies the bible verse John 10:10. The artists say that God is the source of all good things they have in their lives. Healing, power, favour, and direction come from the Almighty God.
9. Knowing You by Minister GUC
Gift Ugochi Christopher, popularly known by his stage name Minister GUC is a gospel singer and songwriter with many tracks. His track Knowing You is a worship song released in August 2020 from The Message album. He seeks to know more about God to understand his truth and ways. He also trashes the pride of the world that can hinder him from knowing God.
10. Nothing is Too Hard for You by The Gratitude and Judikay
Singer The Gratitude teamed up with gospel minister and worshiper Judikay in the song Nothing is Too Hard for You, released in September 2021 from the album with the same title. From its lyrics, the artists say that God can do everything, even those that seem impossible in the human eyes. God can overcome any obstacle, and his capabilities are not limited.
11. Dependable God by Victor Thompson
Victor Thompson is a Nigerian gospel artist and social media personality known for his worship song Dependable God, released in October 2021. The single's lyrics have a powerful message of faith. He is also grateful for God's unconditional love, which keeps him contented knowing that God is present in his life.
12. Saturate Us by Elijah Oyelade
Saturate Us is one of the gospel singles from Elijah Oyelade's album Songs of the Spirit, released in January 2022. Elijah is a teacher, songwriter, and pastor from Nigeria known for his numerous deep worship songs. Saturate Us is about submission to God's will and from the lyrics, he welcomes the holy spirit into his life so that he can glorify and adore the goodness of the Lord.
13. My Soul Says Yes by Sonnie Badu
My Soul Says Yes is a hymn by Sonnie Badu, an award-winning gospel singer, songwriter and author. It was released in October 2016 and is from the album Soundz of Afrika. In the song, the artist accepts the Lord in her life to teach her His ways. She says that the Lord is her light and guide, and whenever He calls her, she will be ready to do as the Lord wants.
14. We Wait on You – Steve Crown
We Wait on You is a track released in 2015 from Steve Crown's album You Are Great. Steve Crown is a Nigerian gospel artist known for hits such as You are Yahweh, Hosanna, and Angels Bow. The prayer song invokes the Holy Spirit to come down and fill worshippers' hearts as they pray and praise God in their temples.
15. Dansaki by Lara George
Dansaki, meaning I'm acknowledging you, is a worship song by Lara George, a Nigerian artist and songwriter based in the US. The track was launched in 2012 and comes from the album Higher. She recognises the presence of God in her life and praises Him for the good things.
16. See What the Lord Has Done by Nathaniel Bassey
The Nigerian gospel singer released the song See What the Lord Has Done in January 2022. Besides being a song that puts you in the right mood to pray, it imparts a powerful message of how God works miracles in people's lives. He gives hope to people facing challenges that one day they will overcome and smile, wondering how God has made them proud.
17. Under the Canopy by Frank Edwards
This is a 2017 worship song from an album with the same title by Frank Edwards. Frank Edwards is a recording artist, singer, and songwriter known for Nigerian gospel songs such as No Other Name, If Not for You, Believers Anthem, and I lift My Voice. The song is about God's protection.
18. You Are Worthy by Tope Alabi
Tope Alabi released the song You Are Worthy in March 2018 from the album Yes and Amen. Besides singing, Tope is an actress and film music composer. She is a Nigerian gospel music heavyweight known for hits such as Praise, Gratitude, Orun Oun Aye, and Jesu Olurapada. In the song, she says that God is worthy of her praise and calls Him ruler of the universe and lion of the tribe of Judah.
19. Only You Jesus by Ada Ehi
Ada Ogochukwu Ehi is a gospel singer, recording and performing artist from Nigeria. Her song Only You Jesus was released in July 2016 from the album Future Now. She exalts the name of Jesus, praising Him for many good things and believing that her future is safe in Jesus.
20. Nara by Tim Godfrey
Singer Tim Godfrey features Travis Greene in the song Nara, released in September 2018. It is a thanksgiving song showing gratitude for all the things that God has done.
People use different ways to pray, and singing is one of them. As a result, worship songs have recently gained popularity, with Nigerian artists releasing some of the best worship tracks. The above powerful worship songs in Nigeria are just a few of the numerous touching Nigerian tracks that can bring you closer to God.
READ ALSO: Who is the best singer in the world? 10 contenders for the title
Legit.ng recently published the best singers in the world. Everyone has a genre of music they like, and a singer who they feel is the best in the world. However, some singers have been outstanding and have gained acceptance across the divide. Who are these singers considered to be the best in the universe?
The World's best singers have tracks that have stood the test of time because every generation can connect with them. Besides fame, they have won many coveted awards, such as the Grammy. Even though this list has 10 top singers, many others deserve mention.
Source: Legit.ng